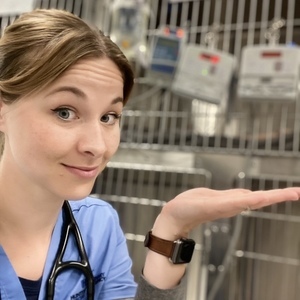 Elena Graves
Special guest
Elena's love for veterinary medicine started at the age of 7 when she sat on a horse for the first time. She practically lived out at the horse barn, caring for and riding horses, until she started her freshman year at Auburn University in the Fall of 2008. During her college career, she began working at a veterinary clinic as a kennel assistant in-between classes, and worked her way up to becoming a veterinary assistant. She also met her husband, Keith, at Auburn University. Shortly after graduation in 2013 (Bachelors in Animal Science) she moved to Huntsville, AL with him. While working at a small animal general practice in Huntsville, her manager recommended that she advance her career and obtain her license in Veterinary Nursing. Elena graduated from Jefferson State Community College and obtained her license in 2016. She now works at Huntsville Veterinary Specialists and Emergency as the lead ICU L.V.T in the surgical and emergency departments. Her interests and passions include the Veterinary Nurse Initiative, Dentistry, Emergency and Critical Care, Anesthesia, and Internal Medicine (in which she is striving to obtain her VTS in). She spends most of her free time riding/showing horses, hiking with her dog and traveling around the world with her family. She and her husband are the proud parents of Grizzly, a lab/pointer mix, Colonel, a chestnut thoroughbred, and a rambunctious human toddler named Michael.
Elena Graves has been a guest on 1 episode.
May 12th, 2021 | 59 mins 2 secs

anxiety, dvm, introvert, introvets, vet, veterinarian, veterinary, veterinary technician

Lauren and JJ welcome Licensed Veterinary Technician Elena Graves to the podcast to discuss the benefits of becoming a credentialed technician, the Veterinary Nurse Initiative, and the importance of encouraging colleagues to further their skills and education.